Saturn, the planet of destiny, is finally set to begin its course in the Aquarius Sign. Saturn Transit in Aquarius Sign will be effective from 17 January 2023 to 31 March 2025. The total duration of this transit will be 26 months and 14 days. Therefore, Saturn will influence our lives in its unique way from the Aquarius sign for about 804 days. Saturn will enter Aquarius Sign on 17 January 2023 at 18:03:37 hours IST. But what will be Saturn Transit Results for each Zodiac Sign? Don't worry, we've got you covered, we suggest you read further to know how Saturn Transit in Aquarius Sign is going to impact you, and what possible results you may get during its tenure of 2.25 years.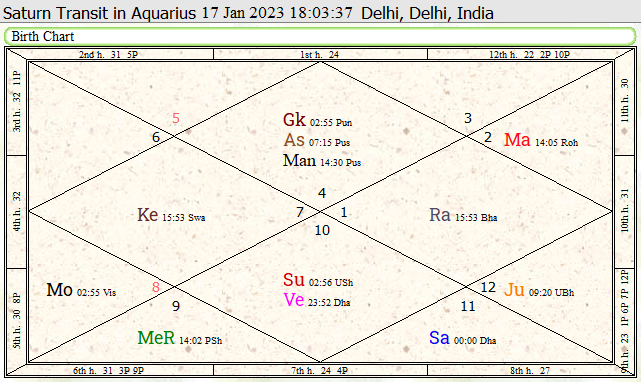 Saturn Transit in Aquarius Sign in Vedic astrology
Understanding Saturn – The Shani Dev mentioned in the Vedic Texts
In Vedic astrology, Saturn is one of the nine planets, and these nine planets together are called "Navagraha". In Hindu Scriptures, Saturn is also known as Shani Dev. For Saturn, it takes approximately 30 years to transit through all the zodiac signs. Saturn is known to deliver Karmic justice, but it also plays a crucial role in intervening and punishing someone moving on the wrong path, enabling him to tread the right direction in life again.
It is believed that Saturn delivers justice according to a person's Karma of the previous and present birth. It makes people suffer for their wrongdoings to purify and cleanse them of the negative influences of evil they have acquired.
Saturn Transit Results may vary for each and every individual based on their birth horoscope. For some, it brings sorrow, and for some happiness. To find out what Saturn Transit in Aquarius 2023 has in its store for you, connect and talk to our Astrologers or order your Saturn Transit Report now. 
Saturn Transit Results: Saturn Transit in Aquarius 2023 Predictions
1. Saturn Transit in Aquarius for Aries Ascendant
For Aries Ascendant, Saturn is the 10th and 11th House Lord. Saturn will be in the 11th House in Aquarius during the transit. From there, it will aspect your Lagna (Ascendant), 5th and 8th House. It will affect your creative energy and your response to change. However, this transit will bring honour and respect to your professional life with excellent opportunities.
Willing students may get opportunities to study abroad. People in business will outshine their competitors. For relationships, stay calm in difficult situations, or else there will be instability in relationships. Singles will find a new partner. 
2. Saturn Transit in Aquarius for Taurus Ascendant
The Saturn transit 2023 will bring new opportunities that you were waiting to get. Taureans have a stubborn nature and are often change-resistant. They must realise that change can be cumbersome and for the better. Those working in the private sector might face politics in their office ecosystem. However, this might be positive as this could lead to a job change with a much better opportunity. Businessmen will also get new directions and options indicative of growth.
3. Saturn Transit in Aquarius for Gemini Ascendant
For Gemini Ascendant, the Saturn transit will influence the 9th, 11th, 3rd and 6th Houses. With this transit, Geminians can expect opportunities to travel extensively. The 9th House is about thinking big so students can expect excellent career advancement. This period is also favourable for your career, where you can expect growth, promotions, and financial gains. Your love life will be exciting but problematic situations may arise. 
Keep yourself engaged in stimulating conversation but avoid gossip. Else, it may lead to people distrusting you and your subsequent loss of reputation.
4. Saturn Transit in Aquarius for Cancer Ascendant
Saturn is the 7th and 8th House Lord for the Cancer ascendant and will be transiting in the 8th House. From here, Saturn will also influence the 10th, 2nd and 5th House. It will be a time of great emotional upheaval. It will be a time of great emotional upheaval as your love and family life will go through tremendous highs and lows. 
The key is to stay strong. Saturn as a great teacher will bless your education house. However, Saturn's transit in the 8th House also brings uncertainty. You will go through an intense learning process during this period.
Saturn's Transit can bring both Auspicious and Inauspicious results based on its natal placement in a birth chart. To know about your personalised results, Speak to Astrologer now, or order your Exclusive Saturn Transit Report.
5. Saturn Transit in Aquarius for Leo Ascendant
Saturn is the 6th and 7th House Lord for the Leo Ascendant, and Saturn will be in the 7th House. From here, Saturn will aspect the 9th, Lagna and 4th House. The 7th House is all about partnerships and marital life, and there will be challenges in business partnership(s) and love relationships.
You will get great job opportunities where you can expect to grow financially. You may encounter difficult-to-manage situations in marriage, disturbing your peace and happiness.
6. Saturn Transit in Aquarius for Virgo Ascendant
From the 6th House, i.e., Virgo, Saturn will influence the 8th, 12th and 3rd House. You may also go for higher studies abroad. You will also get favourable opportunities in your career. This transit will not be fruitful for businesses except export-import businesses, which will prosper. This phase will teach you that there's more to life than just being number 1. 
7. Saturn Transit in Aquarius for Libra Ascendant
For Libra, Saturn is the 4th, and 5th Lord, transiting through the 5th House. Saturn will influence the 7th, 11th, and 2nd Houses. It is indicative of financial losses and family problems. Saturn transit 2023 is unsuitable for love relationships as Saturn signifies loneliness and separation. It will lead you toward spirituality. As a remedy, chanting Shani Stotram on Saturdays will bring great results.
8. Saturn Transit in Aquarius for Scorpio Ascendant
For Scorpio, Saturn is the 3rd and 4th Lord. From the 4th House, Saturn will influence the 6th, 10th, and Lagna. This transit will be troublesome for you. You can expect job and property-related problems. During this period, you mustn't let the stress seep into your personal life. 
You should utilise your time for spiritual practice. Moreover, visiting Shanidev temples on Saturdays will prove beneficial. Don't leave your job before getting a new opportunity. While making investments, think about your situation and reduce your expenditure. 
9. Saturn Transit in Aquarius for Sagittarius Ascendant
For Sagittarius, Saturn is the 2nd and the 3rd Lord. Short and long foreign trips during the Saturn transit 2023 are likely. Saturn is a planet for hard work. Travelling for business is also on the cards, which will be favourable for financial growth. 
10. Saturn Transit in Aquarius for Capricorn Ascendant
Capricorn Ascendants are money minded by nature. There will be problems in your work and personal life during this period. If you want to marry during this time, you will face many obstacles. Treat this challenging phase as the most valuable in your life. Why? It is said that a person cannot deal with a victory unless they can deal with defeats.
11. Saturn Transit in Aquarius for Aquarius Ascendant
Saturn will activate the 3rd, 7th, and 10th House for Aquarians. During this time, your expenses will increase, and health concerns may lead to mental and physical stress. There is a chance that your much-loved freedom will be severely restricted. Saturn will teach you how to survive happily, even if commitments and losses limit your freedom. You will also face pressure at the workplace. There could be some setbacks. Moreover, the effect of Saturn's transit might create troubles in your relationships too.
12. Saturn Transit in Aquarius for Pisces Ascendant
For Pisceans, this time will be plagued by increased expenditure, health issues, and arguments in your family. It is recommended to find solace in music, art, and poetry. You should embrace your creative sensibilities. You may want to switch jobs, but it will not be favourable during this phase. It will be a challenging phase. But, you will be richly rewarded for your patience. Chanting Vishnu Shahasranaman on Thursday and Saturday will bring outstanding results.
Conclusion
Saturn's transit in Aquarius Sign will bring either gain or teach valuable lessons. However, in challenging times, spiritual practices like chanting Surya Beej Mantra, performing Surya Namaskar, Chanting Shani Stotram, offering mustard oil to Shanidav, and pouring milk on Shivling will bring outstanding results.
Want to know how Saturn Transit in Aquarius Sign will affect you? Order a Personalised Saturn Transit Report or Connect and Talk to Astrologer only at Astroshala.com