Makara Sankranti 2023 Time, Sankranti Devi, Rituals, Puja Vidhi, Shubh Muhurat, Samagri and Hindu Astrology Predictions: Makara Sankranti is one of the most significant and widely celebrated festivals in India among people of all castes and creeds. The date of Makara Sankranti may vary based on the leap year. The Makara Sankranti 2023 will be celebrated on 15 January when, per the Hindu lunisolar calendar, the Sun will begin its journey in the Capricorn Sign, known as Makara Sign in the Hindi language. Every year, Makara Sankranti is celebrated on the first day of the Sun's transit (Solar Ingress) into the Capricorn Sign or Makara Sign. Makara Sankranti is basically a festival celebrating Sun's transiting course towards the northern hemisphere.
Astroshala.com offers a personalised and exclusive 10-Year Astro Life Report. Order Now to know what the future holds for you and how you can overcome difficult times (if any) in the next 10 years to use it best.
Rituals and Significance of Makara Sankranti or Uttarayan
In India, Makara Sankranti is considered to be a highly auspicious festival. On this day, people worship and make offerings to the Sun god. In India, as per the Hindu lunisolar calendar, this day marks the beginning of the Shishir Ritu (Winter Season). As per the Hindu lunisolar calendar, from this day onwards, Sun sets its course towards the Northern hemisphere, which is known as Uttarayan. Though this day is primarily celebrated by the Hindus, with changing times, people of all castes and creeds come together to celebrate it. On this day, people, especially in northern India, fly kites. Moreover, many people also take a dip in holy water (River Ganga, Yamuna, Narmada, Godavari, Kaveri, etc.) to mark the auspiciousness of this festival. In Hinduism, it is widely believed that those who die on the day of Makara Sankranti attain Moksha (Salvation) and are freed from the cycle of birth and death. For instance, Bhishma Pitamah waited for 58 days lying on an arrow bed to mark the Sun's course in Uttarayana, i.e., the day of Makara Sankranti to give up his body to attain salvation (reference Mahabharat).
Different Names of Makara Sankranti
Makara Sankranti is one of the few Hindu festivals that is observed based on the Hindu solar calendar. In India, across various regions, it is known by different names. For instance, in the eastern Indian state of Assam, it is known as Magh Bihu, while in the western state of Maharashtra, people call it Pedda Pandaga. In Gujarat, it is known as Uttarayan, and in Kashmir, it is called Shishur Sankrant. Similarly, Bengali people call it Poush Shongkranti, and in Tamil Nadu, it is known as Thai Pongal. 
It is also a cultural custom to donate grains, black sesame seeds, sesame laddus, pulses, fruits, and other necessary commodities among the poor. Khichdi, a traditional dish made up of rice and pulses, is also prepared on this auspicious day.
Makara Sankranti has both a religious as well as a seasonal significance. As per the Hindu calendar, it is one of the most auspicious days among Hindus.
This year Jupiter will transit the Aries Sign for the next 1 year. Order your own personalised and exclusive Jupiter Transit Report now to know how it will affect you and get suitable remedies to overcome challenges! 
Significance of Makara Sankranti 2023 As Per Hindu Astrology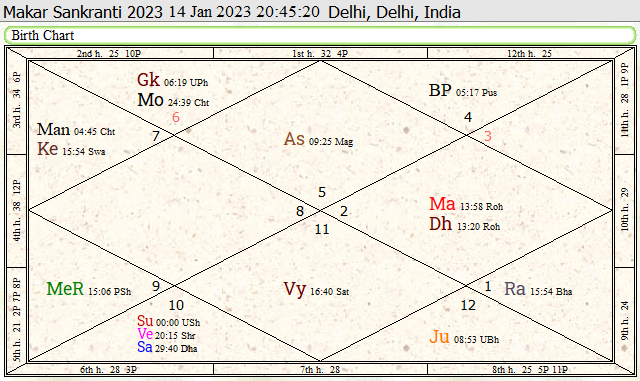 This year Sun will enter the Capricorn Sign (Solar Ingress) on Saturday, i.e., January 14, in the night at 20:45:20 PM, and when it commences, Leo (Simha) Sign will rise in the ascendant. As per Hindu Astrology, any Sankranti that commences at night denotes prosperity. However, as it takes place on Saturday, it will also bring severe unnatural calamities. As Solar Ingress for Makara Sankranti 2023 is taking place at night (after Sunset) on 14 January, the Makara Sankranti festival will be celebrated on Sunday, i.e., on 15 January 2023.
The Appearance of Sankranti Devi as per Hindu Astrology
This year until mid-Feb 2023, Sankranti Devi will come riding on a Leopard, with the sword in one hand and pindipalam (a weapon made up of an iron bar) in the other. She will be wearing red clothes with pearls worn around her neck. Her body will smell like the fragrance of saffron powder. She will be adorning Karnikara flowers. Sankranti Devi's face will be in the Leo sign. Hence she will be starting her journey from the South direction and moving toward the East direction. She'll be in a sitting posture. In this state, she consumes a boiled mixture of milk and sugar.
Results of Sankranti Devi's Appearance as per Hindu Astrology 
As this Sankranti is on Saturday, the appearance of Sankranti Devi will affect the entire world. It will cause many natural calamities, diseases, famine and extreme weather conditions. Therefore, famine and widespread disease could lead to many deaths. Moreover, there could also be protests in many countries against their respective governments, leading to internal conflicts such as riots. Disease(s) will affect many people on a large scale. For commodities, the prices will remain normal.
Here are the Shubh Muhurata timings (IST) for Delhi/NCR region:
Sankranti Karana: Balava
Sankranti Day: Saturday
Observation Date: 15 January 2023 (Sunday)
Sun Transit in the Capricorn Sign Date: 14 January 2023
Beginning Time of Sankranti: 20:45:20 PM
Time of Sankranti in Ghati: 37 (Ratri mana)
Moon Sign when Sankranti comes into effect: Kanya/Virgo
Nakshatra at the time of Sankranti: Chitra ruled by Mars
Makara Sankranti Punya Kaal: 07:19:14 AM to 12:32:00 AM (total duration – 05 hours 12 minutes 46 seconds)
Makara Sankranti Maha-Punya-Kaal: 07:19:14 AM to 08:59:48 AM (total duration – 01 hours 40 minutes 34 seconds)
The
puja
comprises:
Kalash Sthapana

Shodashopchar Puja

Suryadev Puja

Suryadev Shanti Yagya

Gou (Cow) puja

Ganga (River) Puja

Surya (Sun) Gayatri japa

Brihad Aditya Hridaya Stotram's path for appeasing Sun

Sarva Shanti Puja for love, light, and peace to all

Purnahuti

Homa and Visarjan
During Punya Kaal, one can perform activities such as bathing, offering naivedhya to the deity, shraddh rituals, and breaking the fast. However, if Makara Sankranti falls after dusk, all Punya-Kaal-related activities are prohibited for that day. One should perform these rituals the next day after sunrise.
Saturn is now set to transit Aquarius Sign for the next 2.5 years. Order your own personalised and exclusive Saturn Transit Report now to know how it will affect you and get suitable remedies to overcome challenges!