The time between September to November is always sacred to Hindus. They celebrate many festivals during this period starting with Shardiya Navratri 2022. During Shardiya Navratri, people worship Goddess Durga for nine consecutive days. And every day, a different form of the Goddess is worshipped, and the devotees seek blessings for a prosperous year ahead. This year, Shardiya Navratri will begin on September 26, 2022. And the nine-day festival will conclude on the 10th day when people will celebrate Durga Visarjan 2022 and Dussehra. Here we have listed all the necessary information for you to follow during the festivities, which include Ghatsthapana Muhurta, Durga Visarjan 2022 Muhurta, Navratri Puja Vidhi, Navratri Vrat Vidhi, Navratri Vrat Food, and Historical Significance of Durga Puja. We advise you to follow an auspicious muhurta to begin your festival rituals.
People celebrate Shardiya Navratri 2022 during the month of Ashwin (Hindu Lunar Month), which generally falls anytime between September and October. The devotees of the Goddess Durga fast on all nine days. However, some devotees fast only on the first and eighth day of the festival.
Find out what this Auspicious Navratri 2022 brings for you; Talk to Best Astrologers
Start and End Dates For Durga Puja 2022
Shardiya Navratri 2022 will begin on September 26, 2022, and ends on October 5 2022. Celebrations of Durga Ashtami will take place on October 3 and Durga Navmi on October 4. Durga Visarjan 2022 will take place on 5 October 2022, on the auspicious day of Vijay Dashami or Dussehra.
Ghatsthapana Muhurta
Auspicious Kalashsthapana or Ghatsthapana Muhurta, which marks the beginning of Shardiya Navratri on September 26, is between 6:05 am to 7:40 am.
Durga Visarjan 2022: Muhurta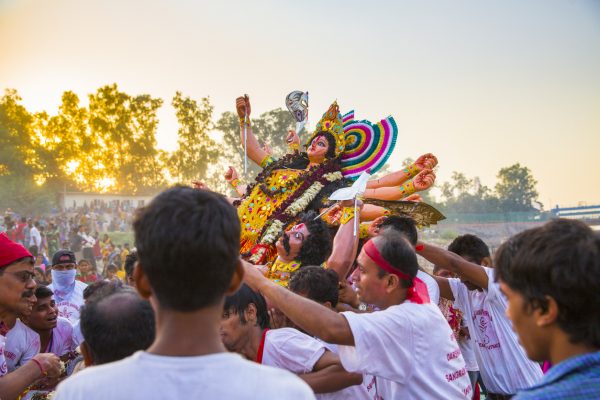 The Auspicious Durga Visarjan 2022 Muhurta will commence from 06:20 AM to 08:42 AM on the 10th day of the festivities, i.e., 05 October 2022
Durga Puja 2022: Historical Significance
The celebration honours the Goddess Durga's victory over the demon Mahishasura around the globe. According to Hindu tradition, the Goddess's killing of the daitya Mahishasura symbolised the triumph of good over evil. Regular recitation of Mahishasur Mardini Stotra is auspicious to overcome obstacles in life and win over your enemies (if any). On Vijay Dashami, she finished out the daitya she had been battling since the seventh day of Navratri, Maha Saptami.
It was Raja Nabakrishna Deb of Calcutta who started it. Afterwards, it became customary for wealthy people to organise Durga Puja at home, excluding many people from these rituals. Participants in this Puja came from all castes, creeds, and socioeconomic classes. The concept of a "sarbojanin" puja — a public or communal puja had become a common way of celebration by the first decade of the 20th century.
Attract Wealth and Prosperity With Your Personalised Horoscope on The Auspicious Days of Shardiya Navratri 2022! – Talk To Expert Astrologer Now!
Goddess Durga's Nine Forms Worshipped During Sharidya Navratri 2022
Day 1:
On the first day, after performing Ghatsthapana rituals under the above-stated Ghatsthapana Muhurta, devotees worship Goddess Shailputri. Shaila means mountain, whereas Putri means daughter. 
Day 2: 
On the second day, devotees honour the Goddess Brahmacharini, a form of Maa Durga who soothes anger.
Day3: 
On the third day, devotees worship Goddess Chandraghanta. People believe her third eye is always open, and she rages war against the devils. To appease her, people offer her Jasmine blooms.
Day4:
On the fourth day, believers worship Goddess Kushmanda. Her name means "cosmic egg," and she infuses everyone with warmth and life. She is also known as Ashtbhuja Devi.
Day 5:
The fifth day belongs to the Goddess Skandamata, who has four arms and three eyes and rides over a lion. She blesses her followers with power, treasures and prosperity.
Day 6:
The sixth day is devoted to the Goddess Katyayani. She is a warrior Goddess who defeated the demon Mahishasur; hence, people also refer to her as Mahishasurmardini. Unmarried girls appease her to get a suitable match for their marriage.
Day 7:
The seventh day belongs to the Goddess Kalaratri. This form of the Goddess is said to be the fiercest among all. She hunts down demons, ghosts, and evil spirits. She is also known as Chamunda, as she killed two demons named Chanda and Munda.
Day 8:
On the eighth day, devotees pray to the Goddess Mahagauri. She rides over a bull and wears only white attire. This day is also known as Mahashtami or Durga Ashtami. She relieves her devotees from all sufferings. 
Day 9:
On the ninth day, people worship Devi Siddhidhatri. In her name, Siddhi refers to her Supernatural Powers, and Dhatri means Giver. She fulfils all the divine aspirations of her devotees.
Day 10:
While concluding the nine days of observance, people celebrate the tenth day as Vijayadashmi, also known as Durga Visarjan 2022.
Do you want to know which form of Goddess Durga you should regularly worship for wealth and prosperity in life? Talk to an Expert Astrologer Now!
Durga Puja 2022: Navratri Puja Vidhi
Navratri Puja begins with Kalashsthapana, also known as Ghatstahapana Muhurta. For your reference, we have listed Navratri Puja Vidhi below.
It is always beneficial to get up before Kalashsthapana, or Ghatsthapana Muhurta starts, shower, and wear new clothing.

Carefully clean the puja place and also try to decorate it with some flowers.

Take an earthen pot, fill it with mud, and spread some Akshat (rice grains) on top. Then add another layer of soil, sprinkle some water on top, and let it sit for some time (5-10 minutes).

Put Ganga Jal inside the pot after tying a Kalava around its neck.

Add

akshat (rice grains), supari (betel nuts), durva (sacred grass),

and some coins (silver and copper coins are auspicious) to the water.

Place five mango leaves on top of the

Kalash

(earthen pot) and cover it with its lid.

Wrap a coconut with a red cloth and tie it with a Kalava. Now, place that coconut on top of the Kalash.

Pray Goddess Durga to accept the gifts and reside inside the Kalash for the entire Navratri (nine days).

Now, you should light a Dhoop and Diya facing the Kalash, considering it Goddess Durga.

Make offerings of fruits, flowers, fragrances, and sweets to the Kalash.

Now you can conclude the

Kalash Sthapana

by reciting the Durga Aarti.
If you are observing fast during Durga Puja 2022, it is necessary for you to follow the Navratri Puja Vidhi stated above. However, it is not compulsory for young children, old people, and pregnant ladies to observe fast. But still, while praying, they can perform puja using the Navratri Puja Vidhi.
Navratri Vrat Food: What Devotees Can Eat During Navratri Vrat 
During Durga Puja 2022 or Navratri Fast, devotees are not allowed to consume their regular meals. It is always recommended to consume Navratri Vrat Food only. Devotees, who follow all rituals and observe fasts, are advised to consume Sabudana (Sago) Khichdi, Sabudana (Sago) Vada, Halwa made of Singhara (Water Chestnut Flour), Kuttu ki Poori (Grass Seed Bread or Quinoa Poori). Restaurants also offer specialised food such as Navratri Special Thali for Navratri Devotees.
Additionally, you can include Lassi or a mango/banana shake in your diet.
You may include fruits like an apple or a banana in your diet. As consuming them will provide antioxidant ingredients in addition to relieving mental tension. Besides this, you may also drink green tea.
You can extend your fast from 3:00 to 4:00 pm by eating curd-based potatoes, kuttu puri, and pomegranate raita. You can consume dry fruits, peanuts, makhana, etc., in the evening. Eat kheer made of bottle gourd; remember to follow Navratri Vrat Katha before your Navratri Vrat Food.