A lot of mystery and hype is going on around the recent Coronavirus outbreak. The President of the United States of America has termed it as the "Chinese Virus". The reason being its originating source is Wuhan, a commercial and hi-tech capital city of Hubei Province in China. On 11 March 2020, The World Health Organization declared COVID-19 a Pandemic. It has now infected almost 7,00,000 people at the time of writing this Hindu Astrology-based Analysis. More than 20,000 people have lost their lives, and approx. 1,50,000 have recovered. Now, YouTube and free blogging websites such as www.medium.com are full of Astrological Articles describing why and how this disease came into existence. Also detailing when the World will be relieved out of this life-threatening disease. As of now, even scientists aren't able to find a cure.
What Astrologers Claimed?
Some Astrologers or Astrology learners/students have put in the entire onus of Coronavirus either on Ketu's transit in Sagittarius sign in Moola Nakshatra, or on the Solar Eclipse that took place on 26 December 2019. But nobody tried to look deeper into the classical scriptures on Hindu Astrology. Every astrologer either claimed the analysis as his own research work or gave no reasons for his/her explanation. And this eventually is the disrespect to our own scriptures, saints and rishis, and acclaimed Astrologers of the past and the present who have done astonishingly commendable work in Hindu Astrology for the benefit of mankind on this earth.
List of Contents That You Are Going to Learn From This Article;
I am learning Astrology since I was in the 9th standard, and then I've learned to go in-depth from my Astrology teachers including, but not limited to, Shri. Naval Singh, Shri. Vinay Gupta, and Shri. Manoj Pathak, at Bhartiya Vidya Bhawan, Delhi under the unmatched and invaluable guidance of our Legendary Shri. K. N. Rao. Later, I started learning Nadi from my "Master", the one and only Shri. A. V. Sundaram, a globally acclaimed authority on Nadi Astrology, has been a divine blessing in my life. All my teachers have always taught me one and the same thing that give the due credit to whom you learn anything from. And to prove your point in any Astrological Analysis and become a good Astrologer, always stick to the basics and quote classical scriptures, rather than going haywire.
So in this analysis, as you go down reading, you'll find me quoting a lot of shlokas from one of our classical texts in Hindu Astrology i.e., Brihat Samhita, which is also known as Varahi Samhita, by none other than the Great Varahamihira.
It is not just Coronavirus or Covid-19
Before I begin with my analysis, I would also like to tell you that this Coronavirus (Covid-19) is not the only disease breakout that has happened in the year 2019, but there's one more that is 2019 Samoa measles outbreak that began in September 2019. As per the stats listed over the Wikipedia website, as of 6 January 2020, there have been 5,700 cases, and 83 people have lost their lives so far. A state of emergency was declared on 17 November 2019. And along with all that, Australia, also witnessed a horrific summer starting September 2019 till late January 2020, where many people and millions of animals, birds, insects, etc. lost their lives in unprecedented Bushfires all across Australia. There have been many similarly devastating events that took place in the year 2019. I've listed many of them in my article below.
My Successful Predictions in October and November 2019 about India
On 5 November 2019 (IST), Jupiter transited to the Sagittarius (Dhanu) sign after completing its year-long journey in the Scorpio (Vrishchika) sign. On the next day, in one of my Astrologers' Whatsapp groups, I was having a discussion about this Jupiter transit in the context of India. And within the next 2.5 months i.e., January 2020, Saturn was to enter its own sign Capricorn (Makar) after completing its journey of 2.5 years in the Sagittarius Sign.
Ram Mandir Judgement
At that time of discussion, I gave a few predictions, where I stated that the Indian Government will take up the Ayodhya Ram Mandir issue very seriously to ensure that the Mandir is constructed even if the Supreme Court of India doesn't rule in favor of the Hindus (a party to the litigation) [On 17 October 2019, in another Whatsapp Group of Nadi Astrologers, I predicted to a friend that the Supreme Court Judgement will come in Favor of Building the Ram Mandir].
Sagittarius, which is also known as the sign of Justice, happens to be the Mooltrikona sign Jupiter (where Jupiter as a Jeeva enjoys). And, and I also predicted that once Saturn moves to Capricorn, there will be mass protests in India for one or more reasons, and even some riots may also take place. While considering India's Independence Chart, Sagittarius happens to be the 8th house, and Jupiter rules over the 8th house as well as the 11th house, but being placed in the 6th house was showing some more severe danger to India. I clearly stated that I won't be surprised if the situation between not only India and Pakistan but also with China gets tenser as Jupiter's transit to Sagittarius will bring him in 1/7 aspect of Mars, which is placed in the 2nd house of India's chart, and Mars happens to rule over the 12th House and 7th House respectively.
In my analysis, I also stated, though there will be some relief to the financial Market (Bombay Stock Exchange posted its lifetime high of 42,273 points on 20 January 2020). However, as Ketu will remain with Jupiter till August/September 2020, this would not be as effectively good as many Astrologers are projecting it to be.
End of Coronavirus?
On the 15th of March, one of my friends asked me when is this Coronavirus thing going to end. Based on my analysis of the ongoing planetary positions, I stated that this crisis is going to have more deepening impact on people's lives as more tragic events are about to come when on 22nd in some countries and 23rd March in others Mars will enter Capricorn, the sign of exaltation, where it will get conjunct with Saturn. I also predicted that there would be a global slowdown for the next 2.5 years till the time Saturn will remain in Capricorn as its transit to this sign took place on an Amavasya when it was in its accelerated motion due to its close proximity with Sun.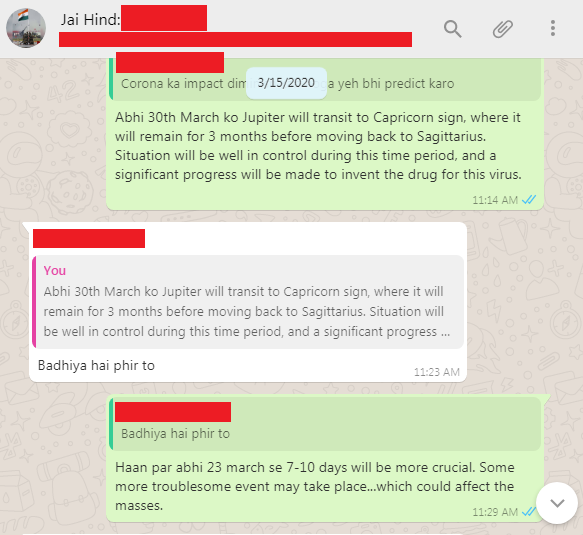 Listed below are the two screenshots are taken from the website worldometers.info showing how many people have died from Coronavirus between 23 March to 29 March (GMT) after Mars entered Capricorn.
Some other tragic events have taken place after 22 March 2020.
2020 Zagreb earthquake: A 5.3-magnitude earthquake hits Zagreb, Croatia. Seventeen people are injured; one is in critical condition. The earthquake is Zagreb's largest since 1880.
Boko Haram insurgency: In two different attacks Boko Haram jihadists killed 92 soldiers at an army base in Chad, and also killed 70 troops in an ambush in Borno, northeastern Nigeria.
The Islamist insurgency in Mozambique: Islamist militants seized the port town of Mocímboa da Praia in Cabo Delgado Province, Mozambique after capturing the town's military base in an overnight attack. Residents say militants have blocked all exits in the town. The armed forces and police launch a counter-offensive.
Mozambique people smuggling disaster: 64 Ethiopian illegal immigrants are found dead and 14 alive inside a cargo container on a lorry in Tete Province, Mozambique, apparently having died of asphyxiation.
Kabul gurdwara attack: Gunmen kill 25 worshippers at a gurdwara in Kabul, Afghanistan. ISIL claims responsibility.
Libyan Civil War: Forces loyal to the GNA assault the Okba Ibn Nafa Air Base, west of Tripoli, while the Libyan National Army captures several towns near the Berber city of Zuwarah, including Zaltan, Jumayl, and Ras Ajdir.
Terrorism in the United State: FBI agents shoot dead an armed man during an arrest operation in Belton, Missouri, U.S. The man was suspected of plotting a bombing attack, with far-right motivations, at a Kansas City hospital believed to be treating COVID-19 patients.
2020 Kuril Islands earthquake: A magnitude 7.5 earthquake hits the Kuril Islands town Severo-Kurilsk in Russia's the Far East.
Kabul gurdwara attack: A bomb explodes near a Sikh crematorium in Kabul, wounding a child and disrupting funerals for 25 people bombed and shot the day prior. (Times of India)
Mali War: Malian opposition leader Soumaïla Cissé and six others are taken hostage by jihadists in the northern Tombouctou Region. Cissé's bodyguard was killed and two others injured in the ambush.
2020 New York City Subway fire: One person is killed and 16 people are injured, four with life-threatening injuries, after a New York City Subway caught fire near the Central Park North–110th Street station in Harlem. The fire has been treated as suspicious.
Yemeni Civil War, Saudi Arabian-led intervention in Yemen: Several ballistic missiles fired from Yemen are intercepted over the Saudi capital Riyadh, and the southern city of Jizan.
Chartered Plane Crash: An IAI Westwind jet, chartered by the Philippine government for a medical evacuation flight to Haneda Airport in Japan, crashes upon takeoff at the Ninoy Aquino International Airport in Manila. All eight people on board are killed.
2 Trillion USD Stimulus Package unable to revive stock market: US stimulus package may be massive but it will not be enough
Sources: Wikipedia; https://en.wikipedia.org/wiki/Portal:Current_events/March_2020
and The Guardian; https://www.theguardian.com/business/2020/mar/25/us-stimulus-package-may-be-massive-but-it-wont-be-enough
The Coronavirus (Covid-19) Pandemic Analysis
Now, let's go back to the Coronavirus breakout. Though China has kept almost every information related to the origin and effect of Covid-19 classified. But all thanks to the International Media from Hong Kong, and the United States of America, which have been able to find conclusive evidence on Covid-19, when it started, how many were infected initially, how and when it started spreading between human to human, and how this news broke out in open even after the suppression of speech in China.
As per the latest reports, the first or "Zero" patient case was reported as early as 17th November 2019, in a hospital at Wuhan, Hubei, China. And on 17th November 2019, it was a Solar Ingress (Surya Sankranti), where Sun moved to Scorpio (The Mysterious Sign of a Natural Zodiac, which is also termed as a black hole).
As per the news reports, the first source of the Coronavirus disease was either a Bat or a Pangolin, which was consumed by the "Patient Zero". As per World Health Organization, the Coronavirus (Covid-19) is spreading to humans either by inhaling droplets emitted by an infected person by sneezes and coughs or by coming in contact with a surface or object that has a virus on it.
When a person unknowingly touches a contaminated surface or object with his/her hands and once contaminated, hands can easily transfer the virus to your eyes, nose, or mouth. From there, the virus can enter your body and can make you infected with Coronavirus. Then, it spreads through the food-pipe to the lungs attacking the entire respiratory system of a human being, and as a result of Coronavirus or Covid-19, patients get either critically ill and put onto a ventilator, or are being told to restrict their movement and stay in one separate room for at least 14 days under the quarantine period.
Coronavirus or Covid-19 and Medical Astrology
Under Medical Astrology, the Face is represented by the Taurus sign (ruled by Venus), and Neck (throat) region in a human body is represented by the Gemini sign (ruled by Mercury). Mercury represents all the three elements Vaata (Wind), Pitta (Bile), and Kapha (Phlegm) along with the Chest, Nose, Lungs, and Throat. Venus represents the two elements Vaata (Wind) and Kapha (Phlegm), and in body parts, it represents Face along with many others. Saturn represents the Touch sense and unforeseen dangers. Ketu represents Epidemics, eruptive fevers, viral and infectious disease, and diagnostic confusion.
The Legs and Feet, which are very much required for the movement from one place to another, are represented by Saturn. And Jupiter and Rahu are the two key planets for expansion or growth so they need to be involved in the widespread of this disease on a global level.
Nakshatras and Coronavirus or Covid-19
In the Nakshatra scheme of body parts, Punravasu represents Fingers, Ashlesha represents Nails, Chitra represents Forehead, Swati represents Teeth, Vishakha represents Both Upper Limbs, Jyestha represents Tongue, Moola represents Both Feet, Purvashadha and Uttarashadha together represents Both the Thighs, and Rohini represents Both Legs. Therefore, there has to have an affliction to either all of these zodiac signs or their ruling lords, nakshatra, and planets I've listed above or too many of them if not all. Affliction would come to any sign, nakshatra, or a planet if a Malefic is connected with it through PAC (Position, Aspect, or Conjunction).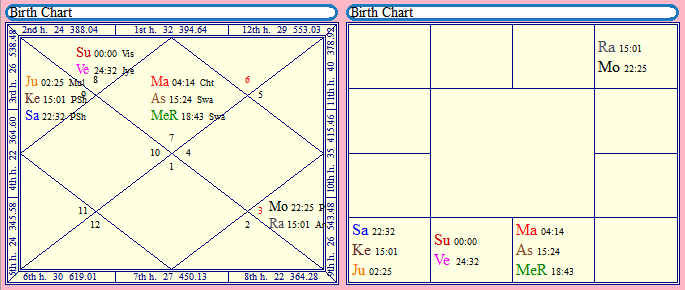 The first COVID-19 case originated on November 17, according to Chinese officials searching for 'patient zero' – News Source; Business Insider https://www.businessinsider.com.au/coronavirus-patients-zero-contracted-case-november-2020-3?r=US&IR=T
Solar Ingress Chart
In the Solar Ingress chart, the Libra sign rises in the ascendant at 19°51' in Swati Nakshatra. In Independent China's Chart, Libra happens to be the 10th house. Therefore, in this Solar Ingress Chart, significations of the 10th House will be strongly felt which are Nation's prestige, reputation, Political Establishment, Prime Minister, King, President, Governer, Top Authority in the State, Disgrace, Foreign Trade, etc.
Here Mercury (retrograde), which rules over the 9th and the 12th house, is placed in the Lagna in Swati Nakshatra, however, being in retrograde motion, it is in its Vikala state (of irregular rate) which is showing that mankind will be afflicted with fear and disease (Brihat Samhita, Ch. 7, Shloka 15 & 16). Mercury is also the Karaka of Communications, Scientific organizations, News Media, Intellectual Caliber of the Country, trade, and commerce. Mars is also conjunct with Mercury, where it rules over the 7th House, and 2nd house respectively.
Mars represents, Rebellion, Political Disturbances, Manufacturing and Industrial Progress, Unnatural and Violent Deaths, Armed Forces, Police, etc. Placement of 2nd house lord and 12th house lord, and Mercury as a karaka of communication, in the Lagna, reflects that there could be expenditure on medical/hospital, secret plots, and imprisonment, deception, conspiracies, military hospitals, war, and losses of all kinds, and a deliberate conspiracy to delay the information about the virus to the world.
Sun is placed in the 2nd house with Venus. Sun rules over the 11th House, and Venus rules over the Lagna and 8th House. The 2nd house rules over the resources of the nation, national wealth and allies, economy of the country. As Sun is ruling over the 11th House, which represents, International relations, gains from foreign trade, national mint, Agreements and contracts with foreign governments, etc. This clearly indicates that this solar ingress will prove fruitful to China in terms of foreign relationships, agreements, etc. However, as Venus also rules over the 8th House, a sudden dramatic change that will lead to the destruction of the state, and hit its economy is also seen.
Jupiter's placement in the 3rd house and being the 3rd lord shows that as has always been the case with China, it will be able to control the media. However, with Saturn and Ketu by its side in Sagittarius, where Saturn happens to be the 4th and 5th house lord, Jupiter also rules over the 6th house, which is the house of conflict, medical and para-medical services, diseases, indicates a severe change in public opinion, and dispute(s) with neighboring countries, and speculations and stock exchange losses, the rise of democratic movements, and downfall in the real estate sector.
10th Lord Moon, placed in the 9th house with Rahu reflects that there will be allegations on the government, and the government may indulge in forceful ways of handling the power to dictate its terms, which could affect its foreign affairs diplomacy.
In this solar ingress chart, it can be seen very clearly, that the following nakshatras; Chitra, Swati, Vishakha, Jyestha, Punarvasu, Moola, Purvashadha, and Uttarashadha are afflicted. Mercury, as stated above, is afflicted, Venus is afflicted as it is conjunct with Sun. The Gemini Sign is afflicted with the presence of Rahu in it. Saturn and Jupiter are also under affliction by being in Ketu/Rahu axis.
Independent China's Chart
The current Dashanath Mercury is placed in the 9th house, which is its own house, and also rules over the 6th house. It is conjunct with Ketu, and Sun (which rules over the 8th house). When this news of Coronavirus exploded and the world came to know about it for the first time on 27 December, when Washington Post published the news with screenshots of the WeChat messages circulated by a Doctor in one of the groups, which he was a part of, where he told his fellow colleagues and friends about the new virus that is affecting people and its symptoms and how dangerous it is as it spreads between human to human. At that time, China was running under Mahadasha and Antardasha of Mercury.
Explanation of Dasha and Events;
8th House represents trouble to people through famine, and epidemics, mortality, discoveries, death rate, scientific investment, destruction of the state, a setback to the cabinet, etc. The Dashanath, which itself rules over the 6th house, which is the house of disease, conflicts, medical and para-medical services, is conjunct with the 8th house ruling Lord Sun, and Ketu. Ketu itself signifies severe epidemics, secret plots, destruction, war, conspiracies, drugs, etc. Therefore, this conjunction of planets and the onset of Dasha of Retrograde Mercury played its part in a breakout of an epidemic in China, which has now become a Pandemic.
For the breakout of Coronavirus, which has been termed as the "Chinese Virus" by the POTUS, on a Global Level, we need to analyse the Horoscope of Hindu New Year 2019 based on CST. Along with that, we also need to analyse the Solar and Lunar Eclipses that took place on 26 December 2019, and 11 January 2019 (CST).
I've taken the place of Beijing, China, because the disease originated in China, and spread to the global level.
Leo Sign rises in the Lagna at 24°46' in Purvaphalguni Nakshatra. In Independent China's Chart, The Leo Sign happens to be the 8th House. Here, Lagna Lord Sun is placed in the 8th House with Moon, which rules over the 12th House. Lagna is being aspected by 9th and 4th Lord Mars from the 10th House, Venus and Mercury placed in the 7th house, ruling over the 3rd & 10th and 11th and 2nd Houses respectively, and Jupiter, which rules over the 5th and 8th Houses.
In this chart, neither the Lagna lord is well placed, nor the Lagna is well aspected. The only saving grace is of Jupiter, however, as it is under severe affliction by being conjunct with Ketu and the 6th Lord Saturn, and aspected by the Mars that too with its deadliest 8th aspect. As stated above, here also, the 6th house, 8th house, and 12th houses are in play, which clearly reflects the danger to China from a breakout of an epidemic.
You must be thinking, how on earth does that indicate that this will become a global disease (a Pandemic).
In 2019-2020, the Year Lord was Saturn. Here's what Saturn does as and when it becomes the Year Lord.
If Saturn becomes the Lord of the Year, the land will suffer from wicked men, the band of robbers, and big wars. Wealth will disappear, there will be heard the cries of people mourning for the death of their loved ones, severe epidemics will break out and afflict people. Clouds will be dispersed by winds; trees will suffer from the disease; the sky will be filled with dust concealing Sun and Moon, tanks will become dry, and rivers will fall. Crops found growing here and there will perish for want of water (Brihat Samhita, Ch. 19, Shloka 19, 20 & 21).
If Saturn should, after a long direct motion, begin to retrograde, or have an accelerated motion, and in this state enter another Rashi, there would be diseases, famine, and drought in the land, and vehicles will suffer destruction (Brihat Samhita, Ch.47, Author's Notes). This kind of transit of Saturn took place on 24 January 2020, when Saturn was in accelerated motion while transiting to Capricorn.
If 2, 3, or 4 Planets are conjunct, people would suffer from deaths and famine. If 5 planets are conjunct, there would also be famine (Brihat Samhita, Ch.47, Author's Notes). It happened many times in 2019-2020, however, the longest duration was from 21 November 2019 to 13 January 2020.
That Constellation in which Sun and Saturn might happen to be together, or through which Mars might happen to pass, or in which retrograde motion of a planet lie, or in which a lunar or solar eclipse might take place, or through which Moon might pass; will bring misery to persons (Brihat Samhita, Ch. 15, Shloka 31 & 32). A similar phenomenon was witnessed between 12 January to 15 January 2020, when Sun and Saturn were transiting together through Uttarashadha Nakshatra in the Sagittarius sign, which was soon transited by Mars too.
If Mercury transits through the Purvashadha nakshatra, mankind will suffer from hunger, from wars and thieves, and from diseases (Brihat Samhita, Ch. 7, Shloka 7). Between 03 January to 11 January 2020, Mercury was transiting through Purvashadha Nakshatra.
A Look back into History to see if Saturn really makes such a long-lasting impression in the world when it becomes the Year Lord.
From 24 March 1917- 11 April 1918, Saturn was the Year Lord, and in January 1918, the Spanish Flu broke out, which lasted till December 1920, killing 17-50 million people and infecting approx. 500 million people.
From 29 March 1968 – 17 April 1969, Saturn was the Year Lord, and in July 1968, The Hong Kong flu (also known as the 1968 flu pandemic) broke out, which killed approx. a million people globally.
During 27 March 2009 – 16 March 2010, Saturn was the Year Lord, and the Swine flu pandemic broke out, killing more than 18,000 people, and infecting approx. 700 million to 1.4 billion people.
From 22 March 2012 – 10 April 2013, Saturn was the Year Lord, and the MERS Coronavirus epidemic broke out, which infected more than 1000 people, and killed approx. 400.
Now let's come to the Eclipses that took place at the very end of 2019 (Solar), and at the very beginning of 2020 (Lunar).
As the disease breakout happened in China, and both the Solar and Lunar eclipses were visible in China, I've taken their timings based in China.
The total duration of the Eclipse was 2 Hours 31 Minutes 17 seconds
At the time of the Solar Eclipse, the Pisces sign was rising in the Lagna (Ascendant), and the eclipse was in the Sagittarius sign where altogether 6 planets were conjunct; Saturn, Ketu, Jupiter, Sun, Moon, and Mercury.
Sagittarius happens to be the 12th house of Independent China's Chart. During this eclipse, China's Chart Lagna Lord Saturn was also present, which eventually shows that this Eclipse was bringing unfortunate events. 12th and 3rd Lord Jupiter was also eclipsed, which shows the deception and failure of Communication on China's part to inform the World and WHO about the originated virus in time. China delayed and now the world is paying the price of its deliberate negligence. 6th and 9th Lord Mercury was also eclipsed, with Ketu (Viruses causing epidemics) which eventually become the reason for an outbreak as per the Solar Eclipse Chart.
The total duration of the Eclipse was 04 Hours 04 Minutes 35 Seconds
At the time of Lunar Eclipse, Libra Sign was rising in the Lagna (Ascendant), and the eclipse was in Gemini sign where Moon was conjunct with Rahu, aspected by Saturn, Mercury, Jupiter, and Mars.
Gemini happens to be the 6th house of Independent China's Chart. For China, Lunar Eclipse is always crucial, as in its chart, Moon happens to be the 7th Lord, placed in Lagna. So whenever, a Lunar Eclipse will take place, you can notice some kind of major impact especially in regards to internal disturbances where people aren't in favor of certain policies and protesting on the streets, and international politics, which could result in long-term disputes, failure to abide by an international agreement, breach of trust, and provoking its inimical countries for war by showing its muscle power unnecessarily.
With these two recent eclipses, you can see how all other countries that are brutally impacted by the Coronavirus (Covid-19) disease, are blaming China for its deliberate negligence to keep the world informed about this deadly virus. And countries even raised this issue in the UN, where China with the help of its friendly countries, namely Russia and South Africa, didn't let that happen.
Moreover, many theories have emerged whether this virus has come from an animal as stated by China and some scientists, or is it a man-made disaster (a bio-weapon) to take revenge from America and other countries for Trade War that has affected China's economy a lot. These events clearly show the impact of the 8th house, 6th house, 10th house, and 12th house that are in play. 
Now I'll cover what our Hindu classic scripture says about such eclipses.
For Solar Eclipse;
If the Solar Eclipse occurs in the 4th division of the daytime (Time from Sunrise to Sunset divided by 7); The King and the Central Country will be destroyed (Brihat Samhita, Ch. 5, Shloka 28-31). Here the author has stated the central country, and when this text was written, India (Bharat Varsh) was a massive land of princely states. In modern times, this shloka needs to be taken liberally rather than literally, where Central Country means the center of a country where such a solar eclipse takes place. And Hubei is a Central Province in China.
When Rahu is on the northern side of the Sun, there will be oppression through the sovereign and thieves, and people will die in consequence (Brihat Samhita, Ch. 5, Shloka 44). At the time of this eclipse, and even now, Rahu is transiting through Gemini, which falls under the northern hemisphere, whereas the Sun, at the time of the eclipse was transiting through the southern hemisphere.
Eclipse in the month of Pushya (Paush Month), a Lunar Month in Hindu terminology, which is the time period between December-January; There will be only small showers, and there will be famine, and panic everywhere (Brihat Samhita, Ch. 5, Shloka 71). Here this shloka applies for both these eclipses as both of them took place in the Pushya month itself.
If Jupiter is also eclipsed at the time of Eclipse, learned men, kinds, ministers, elephants, and horses will perish, and Northern countries will suffer (Brihat Samhita, Ch. 5, Shloka 66).
If the eclipse is in Dakshinayan (Southern Hemisphere); Vaishyas (Businesses) and Sudras (Employees) will suffer (Brihat Samhita, Ch. 5, Shloka 32). This solar eclipse was in Sothern Hemisphere.
If eclipse takes place in Dhanu (Sagittarius sign); Ministers, Physicians, Merchants, and persons skilled in the use of destructive weapons will die (Brihat Samhita, Ch. 5, Shloka 41). This solar eclipse took place in Sagittarius Sign, and a lot of doctors, and politicians, who were ministers in their countries have also died, and many top-level politicians, ministers are still infected and fighting with Coronavirus, example; Boris Johnson, the Prime Minister of the United Kingdom.
If the solar eclipse ends at the southwest point, Queens of Sovereign will suffer (Brihat Samhita, Ch. 5, Shloka 86). This solar eclipse ended at the southwest point. The first lady of Canada is infected with Coronavirus, and Spanish Princess died of this Covid-19.
For Lunar Eclipse;
The lunar eclipse begins at the Eastern disc and terminates as the Western point, it is known as Jarana (Decaying); Mankind will be afflicted with hunger and with wars (Brihat Samhita, Ch. 5, Shloka 88). This lunar eclipse began at the Eastern disc and terminated at the Western point.
This Lunar Eclipse, for China, also occurred in the 4th part of the night. Hence same results will be met as stated above for the Solar eclipse.
If Rahu conceals the entire orb and is in that position for a considerably long period, it is called [Avmardan (Tormenting)], which results in the destruction of leading kings and important countries (Brihat Samhita, Ch. 5, Shloka 48). During this lunar eclipse, Moon's orb was concealed for a long time. Now you can see why so many leading countries are being affected?
If Mercury aspects the eclipsed Moon; Ghee, Honey, Oil will become dear and rare, and kings will suffer. And if Mars aspects, there would be an outbreak of war, the risk from fire, and danger from thieves. But if Saturn aspects, rains will fail, famine and risk from thieves will result. Or if Jupiter aspects, the intensity of listed results will decrease (Brihat Samhita, Ch. 5, Shloka 60-61). During this lunar eclipse, Mercury, Jupiter, Saturn, and Mars were aspecting Moon. However, as Jupiter was badly afflicted, its positive results aren't being seen to protect the masses from the deadly Coronavirus, but still, we should consider it a saving grace else situation could have been worse.
If eclipsed in Mithuna (Gemini), chaste women, princes, powerful petty chiefs, and learned men will suffer miseries (Brihat Samhita, Ch. 5, Shloka 37).
More factors that contributed to spreading this disease from an epidemic to pandemic are listed below;
During the period when Jupiter and Saturn occupy a single sign (it means both are conjunct in a sign), there would be pestilence, cholera, and deaths among people (Brihat Samhita, Ch.47, Author's Notes).
When Saturn transits through Sagittarius, Aries, Taurus, Pisces, or Leo, there would be deaths among men and animals that only 1/3 of mankind, of elephants, horses, cows, and other animals, of birds, and of creatures, of water, would survive (Brihat Samhita, Ch.47, Author's Notes).
Planetary Conjunctions; If in any sign planets are in close degree conjunction (Bheda), there will be a drought in the land, friends, and families will turn into enemies. And if the conjunction is some distance apart (Ullekha), wars in the land. But if the conjunction is more distance apart (Amsuvimarda), kings will be at war, and mankind will suffer from weapons, from diseases, and from hunger. Or if they are far from each other (Apsavya), rulers will be at war with one another. (Brihat Samhita, Ch. 17, Shloka 3-5).
For upcoming days; starting 30 March 2020, when Jupiter will enter Capricorn, where it will meet Mars, and Saturn already transiting in that sign, and till 06 April, all three of them will be in the same nakshatra. Hence, this time period is immensely crucial for people to keep patience, stay at home, and fight out the Coronavirus with bravery. Additionally, as per Sangatha Rashi Chakra, this planetary conjunction is also being aspected by Rahu, and Moon will also join on 31 March. This combination can prove to be the deadliest of them all. There could be some devastating events other than the ongoing Coronavirus, which may affect mankind on a large scale.
If Saturn, Mars, and Jupiter are within sight of each other, men with their children would suffer from hunger and from weapons (Brihat Samhita, Ch. 47, Author's Notes).
During this entire year 2019-2020, many critical conjunctions and associations of planets through mutual aspects took place, which eventually resulted in a lot of deaths, drought, disease outbreaks, wealth loss, anxiety, fear, and stress. I've listed down some of the prominent ones below to have a look back on that year to uphold our confidence and move forward in the fight with this Chinese Virus (Covid-19).
Prediction about Janta Curfew (Lockdown) in India on 22 March 2020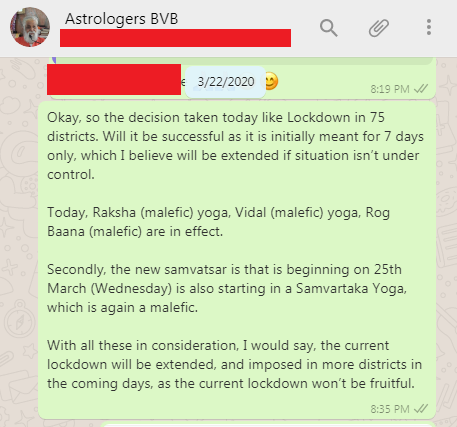 Future Predictions About Coronavirus (Covid-19) and The World
Now a couple of billion-dollar questions arise; when are we going to get rid of this disease or when are we going to find a vaccine to cure Coronavirus (Covid-19).
Jupiter's transit in Capricorn will make things better for mankind. Though there Jupiter will be in its debilitation, but then the Neechbhanga Yoga will also be applicable, as Capricorn's ruling lord (Saturn), as well as the planet that exalts (Mars) in Capricorn, will already be present there. On April 06, Mars will move to Shravana Nakshatra, leaving Jupiter and Saturn behind in the Uttarashadha Nakshatra. Though the disease will still be in existence for at least the next 4-6 more months, its impact will start to diminish soon after Mars will move to Shravana Nakshatra, and with Jupiter's presence in Capricorn for the next 3 months. And significant progress will be made in finding a vaccine for this disease.
Moreover, with the presence of Mars, Saturn, and Jupiter in Capricorn, aspected by Rahu, when seen using the Sangatha Rashi Chakra, indicates that it's not just the Coronavirus (Covid-19), but there could be an escalation of terrorist attacks, oil war between Russia, Saudi Arabia, Qatar, and America will also show its worst-ever impact, and there could also be a possibility where some countries may come head-to-head in a war-like situation. Volcano(es) may erupt, a Tsunami may trigger due to a massive earthquake, and some major fire may break out.
In China's chart, Saturn (Lagna Lord) will be in Lagna, 12th and 3rd Lord (Jupiter) will also be in Lagna. China will keep on struggling with the impact of Coronavirus, the stats the Chinese Government is providing to the world are highly unrealistic, and in the coming days, it will be exposed to the world.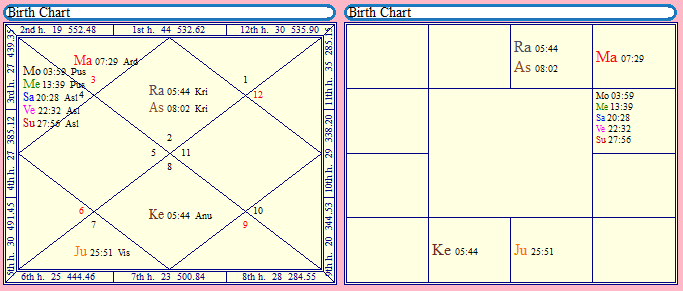 However, as in India's chart, Capricorn happens to be the 9th House, which is the 4th from the 6th house (house of disease, and medical practitioners, etc), India will witness a lot of relief from this disease, and Saturn, which is the 9th and 10th Lord in India's chart will help to lessen the infection rate among Indians.
In America's Chart, in which Leo sign rises in the Ascendant, Capricorn happens to be the 6th house. There Ketu is also placed. Also, Jupiter being the 8th Lord, is present in the 6th house with the 6th Lord (Saturn) in transit. It clearly indicates a lot of American's will get infected during this time. However, as Jupiter will cross over the 5 degrees in Uttarashadha nakshatra (deep debilitation point for Jupiter), things will start improving. Once, Ketu moves to the Scorpio on 19th September 2020, affliction to the Lagna Lord Sun will be over. Then America will start moving forward like before. And surely a medicine will be found by the American researchers between 08 July to 19 December 2020.
Some of the tragic events of 2019 captured the attention of the public. Where eventually many lives and billions of dollars were lost (Source: Wikipedia).
During this year, Australia witnessed an unprecedented bushfire. The bushfire killed many people, burnt their houses, and millions of animals, birds, and insects lost their lives. Except for a few countries in Asia, the entire world witnessed less rainfall, and some countries even witnessed record-breaking drought.
Some people lost their lives in Hong Kong for raising their Voice against China's leadership and control over Hong Kong.
In December, America killed Iran's Second in Command leader and General Qaseem Soleimani in Iraq. This signaled the start of the war between America and Iran. However, Iran didn't escalate the tensions due to global pressure.
Amid Pro-Democracy protests, Hong Kong posted its worst-ever GDP numbers claiming a Recession in its economy.
Notre-Dame Cathedral in Paris turned into Ashes after a massive fire broke out.
In a terrorist attack, a series of 8 bomb blasts occur in Sri Lanka on Easter Sunday. 250+ people were killed and many were injured.
The number of deaths from the Kivu Ebola outbreak exceeded 1,000 (WHO declared it a public health emergency of international concern).
America fueled the trade war with China by imposing a 25% tariff hike on $200 Billion worth of Chinese products.
Iran and Saudi Arabia came on verge of war after two Saudi Aramco oil tankers were damaged in a Drone Attack.
Globally, July 2019 was recorded as the hottest month at 0.95° C above the 20th Century average.
Hurricane Barry caused over $500 million (USD) in damages.
Massive wildfires broke out in the Amazon rainforest.
An MV Conception sank killing 34 people. It was the worst maritime disaster in the last 150 years in California.
The world witnessed the largest ever gathering of people in protest of Climate Change.
A fire destroyed a 500-year-old Japanese Shuri Castle, a UNESCO World Heritage Site.
May SHRI HARI Bless Us All
Jyotish Acharya Ekant Sharma