On 08 January 2022, The Election Commission of India announced the dates for the Assembly Elections to be held across 5 Indian States. One of the states is Uttar Pradesh. As a result, all the political parties have started their election campaigning and are now declaring a list of candidates for 403 Uttar Pradesh Constituencies. Though the elections are to be held for 5 Indian states, but UP Elections 2022 is getting a lot of attention. Hence, it becomes important to give UP Elections 2022 Prediction. In Uttar Pradesh, you can easily find numerous people discussing the UP Assembly Elections 2022 at various places such as Pan Shops, Grocery Shops, and Hairdressers. The hottest questions being discussed today are the following: Who will win UP Elections 2022? Will Yogi Adityanath win? Will Yogi Adityanath become UP CM in 2022? I am sure you must also be having similar questions, which I will be answering through Yogi Adityanath Birth Horoscope. 
Before we move further to know who will win UP Elections 2022, it is important to note that recently, Amit Shah, the Union Home Minister of India, had declared that the incumbent Bharatiya Janata Party (BJP) Government would fight the upcoming assembly elections under the leadership of UP Chief Minister Yogi Adityanath. Those who follow Samajwadi Party, they also ask the following questions: Who will win UP Elections 2022? Will Akhilesh Yadav win? Will Akhilesh Yadav become UP CM in 2022? Whereas, Indian National Congress followers want to see Priyanka Gandhi winning. Therefore, they generally ask Will Priyanka Gandhi contest UP Elections 2022? Will Priyanka Gandhi Become UP CM? If not Priyanak then who will win UP Elections 2022?
UP Elections 2022 Prediction: Yogi Adityanath to Contest Assembly Elections
UP CM Yogi Adityanath will contest the UP Assembly Election 2022 from the Gorakhpur Urban assembly seat. However, lately, there have been various instances of infighting in the Uttar Pradesh BJP that made the headlines regarding the candidature of the Chief Minister. Indian Prime Minister Narendra Modi, and Union Home Minister, Amit Shah, are backing Chief Minister Yogi Adityanath. However, here, the question arises whether Yogi Adityanath will ensure a landslide victory for the BJP, like in 2017, by emerging as a winner in the UP Assembly Elections 2022 to hold onto his power and remain as the Chief Minister of Uttar Pradesh?
So, let us now dive deeper into his birth horoscope. However, before we proceed further, I would like to clarify that Yogi Adityanath's birth details available on the internet are vague and don't tally with his life events. Most of the astrologers use 5 June 1972 as his birth date. Some astrologers also uses only the Sun Lagna (Surya Kundli) to analyse and predict about Yogi Adityanath using 05 June 1972 as his date of birth, as they are unsure about his birth time. But there are also some astrologers who use the following birth details of Yogi Adityanath: Date of Birth – 29 December 1971, Time – 19:47 Hours, Place – Pauri. However, it does not tally with his life events at all. That makes it hard for me to accept those birth details. Therefore, I have used the Birth Time Rectification methodology to cast his birth horoscope based on his publicly available birth date i.e., 05 June 1972. 
Are you unsure of your accurate time of birth, order a Birth Time Rectification report now to know your accurate time of birth.
UP Elections 2022 Prediction: Birth Horoscope of UP Chief Minister Yogi Adityanath
Yogi Adityanath was born on June 5, 1972, in Pauri Garhwal. As per his bodily features, tallied events of his life, and considering his achievements, there's no doubt that he has the Scorpio Ascendant with Libra Navamsha and Leo rising in the Navamsha Dwadashamsha. His Janma Rashi or Moon Sign is Aquarius. He was born with dasha bhukti of Jupiter as his birth nakshatra is Poorva Bhadrapada.
UP Elections 2022 Prediction: Astrological Analysis of Yogi Adityanath Birth Horoscope
The Ascetic Yoga
Before we move to the UP Elections 2022 Prediction and get into the depth of Astrological analysis of Yogi Adityanath Birth Horoscope, it is important to test some of his real life events. In his birth chart, there is a conjunction of Saturn, Sun, and Mercury in the 7th House. Due to this conjunction, Yogi Adityanath is ascetic, highly disciplined, focused, and determined. However, this conjunction also makes him a controversial figure in the public domain, wherein he had plenty of FIRs and Cases against him. But now as he is in power, Yogi Adityanath has withdrawn all the cases against him and his followers.
The presence of Mars and Venus (R) in the 8th House confirms his views about women in society. There is also a mutual aspect between the 2H and 2L Jupiter (R) and 6L and Lagna Lord Mars. It shows why his speeches are on the lines of religion and why he remains in the news for his violent and communal speeches. It generally does not go well with people from minority groups.
Yogas That Make Him A Controversial Public Figure
The association of Sun and Saturn, which are 10th and 4th Lord respectively, in the 7th bhava shows his stature as a politician and why he remains the key figure (even though a controversial one) in politics. The association of these planets, along with Mercury (8th and 11th Lord), reflects how he chose to live a materialistic life even after becoming a Sanyasi in his teenage years. Ketu in the 9th bhava shows his love and passion for spirituality and religion. The dispositor lord of Ketu, which is Moon, is placed in Kendra from the Lagna forms the Raj Yoga combination.
Even though he got detached from his family during his teenage years, this combination of planets also indicates how he became the favourite disciple of Mahant Avaidyanath, his Guru, early on. On 15 February 1994, Mahant Avaidyanath had declared that Yogi Adityanath will succeed him as the head of the Gorakhnath Mandir. On that day, Yogi Adityanath was under the influence of Sa-Ju-Me-Ju-Mo dasha. 
Additionally, the 6th Lord Mars and the 12th Lord Venus are present in the 8th bhava, which gives rise to the Vipreet Raj Yogas (Harsha and Vimala Yogas). It reflects his rise to power even after living most of his life as an ascetic. Mars and Venus are placed together in the Gemini sign, and they are in a mutual aspect with the 5L Jupiter. This combination also proves his bachelor's degree in Mathematics.
The Raj Yoga Combination
In 2017, followers of Adityanath must have surely asked a question to many astrologers. Will Yogi Adityanath Become UP CM? For anyone to rise in Politics, a promising Raj Yoga combination supported by Dasha is a must. In Yogi Adityanath's birth horoscope, there is a conjunction of 10th Lord Sun with the Amatyakaraka Mercury in the 7th bhava (House of Pada Prapti). This conjunction has formed a Raja Sambandha Yoga. This yoga clearly shows his political ambition and accomplishments leaving his competitors behind. The presence of 12th Lord Venus in the 8th Bhava and 6th Lord Mars in the 8th Bhava also form Vimala and Harsha Vipreet Raj Yogas respectively.
In the year 2017, when the BJP won the Uttar Pradesh Assembly Elections with full majority, Yogi Adityanath was not even in the line to become the CM. Because the top leadership of the BJP was considering Rajnath Singh, Manoj Sinha, Keshav Prasad Maurya, Mahesh Sharma, and some others for the Chief Minister's position. However, his name had emerged from out of nowhere, and he became the 21st Chief Minister of Uttar Pradesh. During that period, Yogi Adityanath was running under the Mahadasha of Ketu. Here the noticeable thing is that Ketu is in the 9th bhava of Bhagya in the Cancer sign representing Moon, which is in the 4th bhava (which signifies legislative assemblies and both the parliaments). Yogi Adityanath took oath as the 21st Chief Minister of Uttar Pradesh on 19 March 2017 at 14:18 Hours.  
Venus Mahadasha: Beginning of the Bad Time Period
As per Yogi Adityanath Birth Horoscope, he became the 21st Chief Minister of Uttar Pradesh when he was running under the dasha period of Ketu-Jupiter-Venus. However, since August 2019, he is now running under the Mahadasha of Venus, which is retrograde and posited in the 8H. Since then, Yogi Adityanath has been going through tough times. His public image has gone for the toss. First, in September 2019, he came under immense pressure and criticism for his politically motivated actions in the Hathras Gang Rape and Murder case. That unfortunate and heinous crime took place on 14 September.
Then he again found himself at the centre of a controversy regarding his stance and brutal actions against the CAA and NRC Protestors. During both these incidents, he was running under the Venus-Venus-Venus period. In January 2007, Yogi Adityanath was arrested along with his supporters for disturbing peace and violating prohibitory orders. During that period also, Yogi Adityanath was under the influence of the pratyantar dasha of the 12th Lord Venus. In Hindu Astrology 12th House represents Jail & Imprisonment.
Year 2020: An Eventful Year for Yogi Adityanath
Furthermore, in the year 2020, first, Yogi Adityanath lost his father in April 2020 under the antardasha of Venus and pratyantar dasha of the Sun. In his birth chart, Venus is in the 12th bhava from the 9th House (House of Father). Sun, the Karaka of Father, is conjunct with 3L Saturn (a malefic) and 8L Mercury. It is further aspected by Rahu in the natal chart. In transit, Saturn was transiting over Natal Rahu (the time of sorrows and miseries in life), which is in the Maraka house for Father, the 3rd bhava. From there, it was aspecting the 9th House of Father. Later Yogi Adityanath was criticised and faced public anger during the first wave of Coronavirus in India for his inability to help the migrant labourers.
Year 2021: Another Eventful Year for Yogi Adityanath
In the year 2021, Yogi Adityanath came under fire when he promoted Kumbh Mela. He went ahead to keep it open for the devotees even when the Second Wave of Coronavirus was annihilating people from all corners. As a result, Kumbh Mela 2021 became the super spreader event. During this period, Adityanath was running under the Venus-Venus-Rahu period. Later in May-June 2021, several dead bodies were found floating in the Ganga River, while many were left half-buried in the sand. During the same period, Uttar Pradesh went ahead with its Zilla Panchayat Elections, which eventually spread the Coronavirus even to its remotest villages, becoming a leading cause of deaths on a mass scale. During this time, Yogi Adityanath was running under Venus-Venus-Jupiter dasha.
In the last two years of his reign, Yogi Adityanath came under attack by his own party MLAs, who even sat to protest against him. Various news reports also claimed a massive rift between Adityanath and BJPs top leadership, regarding the induction of Arvind Kumar Sharma as a Deputy Chief Minister, had taken place. All of this has happened only after his Venus (R) Mahadasha has come into effect. It is significant to note that in Yogi Adityanath's birth horoscope, Venus rules over the 7th Bhava and the 12th Bhava. In Hindu Astrology, the 7th Bhava represents Public Image and Pada Prapti. And the 12th Bhava signifies Losses, Jial, Imprisonment, Enemies, and Scandals.
Analysis of Dashamsha or D10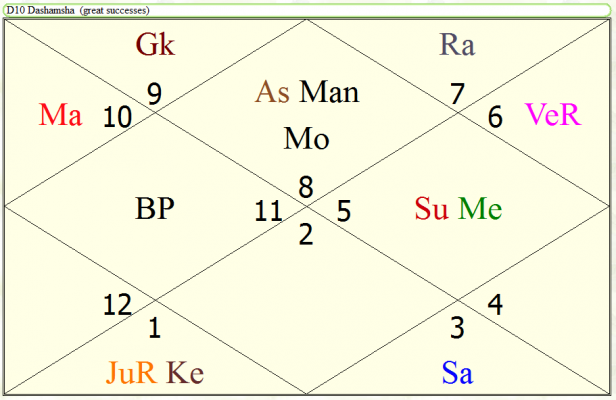 In Dashamsha Chart of Yogi Adityanath Birth Horoscope, the 9th Lord Moon placed in Lagna again shows his religious mindset. The 2nd lord Jupiter in the 6th House with Ketu and aspected by Mars confirms his aggressive speech. Moreover, the 2nd Bhava is also aspected by Ketu, and Saturn reflects his divisive and cunning oratory skills. The 10th Lord Sun is in the 10th Bhava itself. It is conjunct with the 8th and 11th Lord Mercury and further aspected by the exalted Lagna & 6th Lord Mars and 3rd and 4th Lord Saturn.
Yogi Adityanath's phenomenal rise in Indian politics was during the Mahadasha of Mercury. In Dashamsha, Mercury is the 11th lord conjunct with the 10th lord in the 10th Bhava. However, Mercury and 10th Lord Sun are under affliction from Saturn and Mars. This clearly shows his continuous tussle with the previous governments at both the state and centre level. The presence of Lagna Lord and 6th Lord in its sign of exaltation in the 3rd Bhava and placement of Ketu with 5th Lord Jupiter in the 6th Bhava clearly shows his acumen to cut through his competition to climb up the ladder by his efforts.
Here also, the dashanath Venus is not well placed. Firstly, Venus rules over the 7th and the 12th bhava. Secondly, it is in its sign of debilitation in the 11th bhava. From this chart, the placement of Venus indicates that in the remaining 17-18 years of Venus Mahadasha, it may yield good results in the long run. However, Yogi Adityanath has to make serious efforts to achieve good results. Let's now move on to our next part of the article to know will yogi adityanath become UP CM in 2022 and who will win UP Elections 2022. 
A stressful time in career can destabilise your life, order a detailed career astrology report now to get in-depth insights into your career with remedial measures.
UP Elections 2022 Prediction: Who will win UP Elections 2022
As of 01 Feb 2022, only 10 days are left for the first phase of UP Elections 2022. And a total of 38 days are left for the results to be declared. It is a must-win election for all the political parties, be it the BJP+, SP+, BSP, or Congress. However, the main competition is between the Bharatiya Janata Party and Samajwadi Party. Recently, the union home minister Amit Shah had asked his party workers to ensure Yogi Adityanath's victory in the UP Elections 2022 if they want to see Narendra Modi's victory in the General Elections 2024. Congress wants to win it to have a stronghold for the General Elections 2024. Samajwadi Party wants to regain power and project itself as a dominating force to reckon in the General Elections 2024.
UP Elections 2022 Prediction: Yogi Adityanath's Future as CM of UP
As stated above, Yogi Adityanath's birth chart that I have used to analyse his winning possibilities and becoming the Uttar Pradesh Chief Minister in 2022, is a rectified one. Therefore, it would not be a wise thing for me to make a pin-pointed prediction without testing its authenticity.
Will Yogi Adityanath Win from Gorakhpur Urban Seat?
On 10 Feb 2022, the first phase of the UP Elections 2022 will begin. During that time, Yogi Adityanath will be running under the influence of Ve-Ve-Sa-Mo-Ve dasha. And on 03 March 2022, Yogi Adityanath's own Gorakhpur Urban constituency will go for the poll. During that time, he will be under the influence of Ve-Ve-Sa-Ra-Sa dasha. On that day, Moon will be transiting over his Natal Moon in the Aquarius sign in his Janma Nakshatra. Dashanath Venus will be transiting in the Capricorn sign, where it will be under severe affliction with Mars and Saturn. This will be a very tough time for Yogi Adityanath.
UP Elections 2022 Prediction: Will Yogi Adityanath Become UP CM?
The dasha sequence and transiting planets are not favouring Yogi Adityanath. It indicates that this would be the toughest election Yogi Adityanath has ever faced to date. Keeping the rectified birth chart in mind, I predict Yogi Adityanath will not become the Chief Minister in 2022. He may also witness defeat in his Gorakhpur Urban constituency, though it could be from a narrow margin.
In addition to this, the horoscope of the BJP also shows that this year would be very tough for the party. Hence, it may face defeat in majority of the state elections in 2022, especially during the current 5 states assembly elections.
However, if Yogi Adityanath chooses an auspicious muhurata to file his nomination papers, it can bring favourable results. But otherwise, it seems Yogi Adityanath will be utterly disappointed in UP Elections 2022. And Samajwadi Party and Akhilesh Yadav are likely to stay ahead of the BJP and Yogi Adityanath. And if you also need to choose an auspicious muhurata for any important event in your life such as marriage, or to buy a new house/land, order our Auspicious Muhurata report now.